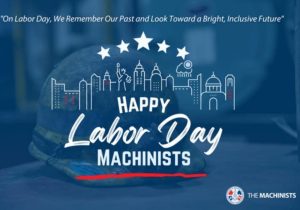 Happy Labour Day Machinists!
Today we went out to celebrate at the Labour Day BBQ put on by the Edmonton District Labour Council, this event was filled with Union Pride and giving back to the community. Affiliated Unions coming together volunteering their time to celebrate Unions and their impact. Impact on our workplaces, our communities and our homes.
Labour Day in Canada, is the first Monday in September, has been a statutory holiday in Canada since 1894. It originated in the first workers' rallies of the Victorian era. – source
For our membership today, we continue to negotiate industry-leading contracts and taking on employers that mistreat our members. We are showing that the IAM is ready to for a new generation of prosperity by launching the Committee on the Future, growing leadership opportunities for women and more.
And we're also finding our true purpose – to inspire and empower our members to make life better and create a world with security, dignity, and opportunity for all. Watch the IAM's Purpose Anthem video here.
This Labor Day weekend, let's be proud of our rich history. Let's remember the 135 years of activism across North America that got us to this point, and that it was an IAM member who founded Labor Day. –source
Here are some Machinists Enjoying the BBQ: